Indian holidays Welcome you on a Pushkar tours. It is situated in the Ajmer district of the magnificent state of Rajasthan. Pushkar is regarded as one of the oldest cities in India. It is Well-known for its cultural charm and distinctiveness, which visited by a millions of tourist every year.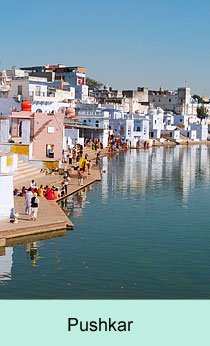 The soothing climate and silent atmosphere of the city makes your holiday trip appealing for tourists. Festive atmosphere, beautifully decorated camels, delicious food and the folk music, all in together make the Pushkar a very lively place.
There are a number of note worthy points which make Pushkar more significant and worthwhile. One such fair that is popular all over the world is the Pushkar Fair that takes place in this royal land.
The sound 'Pushkar' means lotus blossom, which is said to be the seat of Brahma and Brahma is said to be the maker of this world.
According to some mythological stories Pushkar is famously known as the town that was formed when the Hindu God Brahma dropped a lotus into the Pushkar Lake. Indian Gods and Brahma were on a lookout for a place on earth to perform a yagna and they released a swan with a lotus. As luck would have it, the lotus fell in a place which is now popularly known as Pushkar.
During your auspicious holiday trip you can enjoy a number of things in Pushkar including-
Pushkar Fair
Pushkar Fair is one of the widely celebrated fairs in the world. Every year Pushkar receive a special crowd of pilgrims from all around the globe that witness the festival and fair, in union with other celebrations. The holy temple of Lord Brahma is finely decorated in the Kartik month. tourists come here to see a lots of events like to watch sadhus meditating around temples, to take a holy dips in the Pushkar Lake, to attend many events, huge fair with camels, horses and bulls. Tourists can shop around the intricate things available at the various stalls.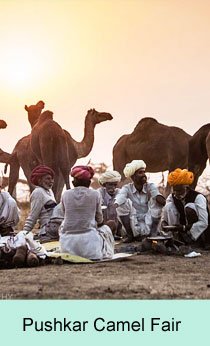 Magnificent Camel Safari
As everyone knows that camel is a 'ship of the desert' and sitting on the back of it is really an enthralling activity. Moving here and there on the back of Camel gives utmost joy and offers an excitement. At Pushker the beautiful hills gives captivating sunrises and sunsets, it is the camel safari that is preferred that brings cheer and celebrations in all aspects.
Brahma temple
In this tour you will visit to the Brahma temple in Pushkar, the most important temple in the town, and the only Brahma temple in all of India. Brahma Temple is beautifully painted in shades of blue and red and was constructed using marble and stone slabs.
Holi dip in Pushkar Lake
It is believed that when Brahma was searching for a place for yagna a lotus from his hand fell in this city and from there a holy lake appeared known as the 'Pushkar Lake'. Since then this belief was established that if you take a dip in this lake on the sacred day of Kartik Purnima all your sins will wash away.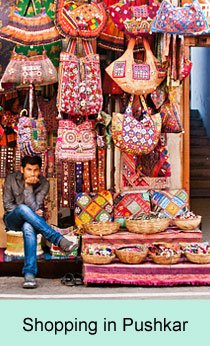 Shoping at Pushkar
Shopping at the local market of pushker is really a treat for the visitors. You can purchase handicraft pieces, home decorative things, jewellery, showpieces carved using brass, metal and wood.
Hot air ballooning over the pushker fair
The prospect of hot air ballooning over the bustling fair is a new cherry that has been added on top of the fair. These gigantic multi-hued balloons not only proffer a bird's eye view of the mela ground but also take you above the pristine city, markets, splendid views of the temple and the Pushkar lake as well as the fortresses and havelis of Rajasthan.
Pushkar temples
There are nearly 500 temples in Pushkar that make this place worthwhile and significant. One and only one temple, devoted to Lord Brahma is situated here. Some of the famous temples of the city are Savitri Temple, Varah Temple, Mahadeva Temple, Ramavaikunth Temple etc.
As Pushkar is an amazing tourists spot, this tour package gives the visitors a lifetime experience.