Jaisalmer is located on the westernmost boundary of India in the state of Rajasthan; it is also popular as the "Golden City" because of its yellowish-golden sand dunes which surrounded the whole city.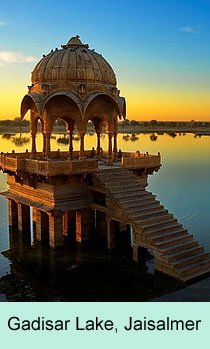 The biggest attraction of Jaisalmer tour for tourists is the living fort Sonar Qila or Golden Fort. This fort tells the story of breavity and courage of Rajputana rulers. There are many other places such as the enchanting palaces and havelis, colorful and vibrant local shopping streets, other forts, stunning Jain temples, arid gold sand land and popular fairs and festivals.
This trip of holiday offers you diverse architecture, art, culture, traditions and colours of Camel city of incredible India. If you desire to do Camel Safari in India, then no other destination is as exciting as Jaisalmer. The beauty of Thar Desert around Jaisalmer, on a camel's back is something which never fails to catch the hearts of visitors on this Indian holiday tour.
Jaisalmer is found by Raja Rao Jaisal, a Rajput King. This city is also named after him and also consider as the oldest fortified city in Rajasthan dominating most of the Thar Desert from the south. The dominant of this city are Bhati Rajputs. The Bhati Rajputs was the warrior tribe in Punjab, but later they moved southwards in the Indian Desert, which later became their home and known as Jaisalmer. During the time of the British Raj, Jaisalmer was a royal state.
Today, the current Maharawal and his family carry out a lot of welfare work and they command a lot of respect from the people of Rajasthan. No wonder, the city brings to you a splendid opportunity to experience the magnificence of the royal charm.
The biggest lure for visitors at Jaisalmer are-
Sand dunes of Jaisalmer
If you haven't seen the exquisite sand dunes in Jaisalmer, you haven't seen anything!! The "land of sand" is famous internationally for its majestic sand dunes. There are two prominent sand dunes Sam sand dunes and Khuri.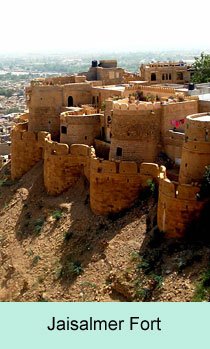 Jaisalmer Fort
This magnificent fort was built by Emperor Rawal Jaisal in 1156 A.D, and derives its name from the king. It is a gorgeous 250 feet tall architectural efficacy and one of the most prominent tourist attractions in Jaisalmer. Some of the greatest attractions of the fort are Hawa Pol, Suraj Pol, Akshya Pol and Ganesh Pol.
Jain Temples
Jain Temples are the must see sites in Jaisalmer. They are nestled in the complex of huge Golden Fort or Sonar Kila. These temples are famous in all over the world for their religious significance and also for architectural brilliance.
Havelis of Jaisalmer
This city is also known for splendid havelis. Patwon Ki Haveli, Nathmalji Ki Haveli and Salim Singh Ki Haveli are worth visit sties in this city. Patwon Ki Haveli is in real the collection of 5 small havelis. You will love to explore architecturally beautiful havelis on your Jaisalmer sightseeing and tours.
Desert National Park
It is one of the largest national parks in India covering an area of around 3165 square kilometer in the vast Thar Desert.
Sightseeing
Jaisalmer is famous for its magnificent palaces and forts that narrate the tale of an intriguing past, royal lifestyle, and honor of the Rajputana dynasty. Some of the tourist attractions in Jaisalmer are Folklore Museum, Gadsisar Lake, Kailana Lake, Government Museum, Patwon ki Haveli, Khuri, Wood Fossil Park, Manak Chowk, and Lodurva.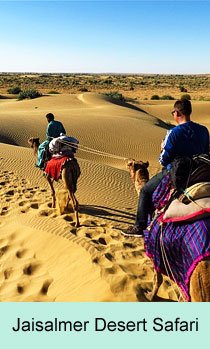 Camel safari at Thar Desert
In camel safari tourists are taken on the back of colorfully adorn camel to a tour. During the tour they stay in tents and enjoy local food and welcome of the local people.Camel tour in Jaisalmer is a unique experience which no tourist can afford to miss. A camel tour takes you on a journey of the beautiful deserts during which you can enjoy the breathtaking scenic beauty of sand dunes and grand palaces.
Food of the city
There are a wide range of cuisines available for your consumption. Rajasthani food is really popular among the tourists and the dishes and snacks available in Rajasthan are one of their kind. Tourists can opt the local flavor of Rajasthani food here. The most famous dishes of Jaisalmer are mirchi bada, ker sangria, murgh-e-subz, kadi pakora, bhanon aloo and lots more.
Shopping
Jaisalmer is famous for handcrafted work. It is also known for its leather messenger bags, made by the native of the area. Tourists can shop leather items, silver jewelry and embroidery on silk and cotton, handcrafted garments and bed sheets etc.