Everybody is now looking forward to enjoying the best possible leisure and fun vacation. If you are one of them then choose India Holiday tour package of Mysore.
No matter, whether you are youngster to aged one, if you are planning to visit Mysore then make sure that you have plenty of time to explore this city as this city has everything for everybody.
The beautiful city of Mysore is located in the State of Karnataka and enjoys a prime location. It stands at the base of the Chamunda Hills. It is a beautiful hill station which attracts people from all over the world.
This Mysore holiday trip offers you a chance to explore rich culture, heritage, glorious history, breathtaking tourist sites like palaces, gardens, shady avenue, sacred temples and much more. Mysore is also famous for Sandalwood, silk and ivory.
It was once the capital of the Mysore Maharajas with its palaces standing testimony to the royal significance of this city. Tourists from different parts of the world visit this place to enjoy their vacations. It is in fact an ideal honeymoon destination.
This glorious hill station is also known as the 'City of Palaces'. The best feature of this city is that one will never find a scorching weather in any month of the year.
Mysore is dotted with some of great destinations which make it a perfect tourist destination in India.
Chamundi Hills and Chamundeshwari Temple
Chamundi Hills is one of the most visited tourist places in Mysore. This hill is blessed with the presence of Chamundeshwari temple devoted to the Hindu goddess Chamundeshwari. The other prime attraction of this temple is the Statues of devil Mahishasura and the bull Nandi. Chamundi Hills also gives a awesome view of the city.
Mysore zoo
Mysore zoo was established in the year 1892 and located close to the Palace of Mysore. This zoo is also popular as Sri Chamarajendra Zoological Gardens. It is the oldest zoos in India having the flocks of rare animal and bird species.
Jaganmohan Palace
Alluring architecture of Jaganmohan palace shows in three storeys is a real treat for visitors. There is a Museum in Jaganmohan Palace which consist a rare collection of historic paintings, musical instruments and sculptures. The paintings of Raja Ravi Varma in the museum, shows the theme of Mahabharata and Ramayana.
St. Philomena's church
This church was constructed by the Wodeyar Maharajas of Mysore. Amazing architecture of church shows archaic gothic style of architecture is really superb. This oldest church located in Mysore stands in honor to St. Philomena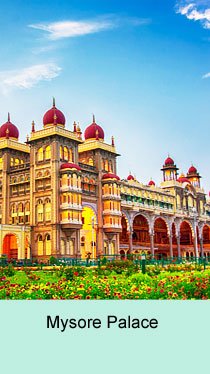 Mysore Palace
Mysore Palace is a spectacular tourist spot of this Mysore holiday tour. It was constructed by Henry Irwin, an English architect. The perfect architecture of this place is the composition of Hindu, Muslim, Rajput and Gothic styles. Mysore Palace was once the residence of Wodeyar Maharaja and was known as Amba Vilas. It is a three storied palace surrounded by beautiful garden.
River Rafting
Mysore is a combination of raging rivers and rapids, the most famous river is the river Barapole. It provides a number of water spot for the tourist and thrill lovers.
Shopping at Mysore
Shopping in Mysore is a must for all visitors as Mysore Silk and sandalwood items are famous here. Sandalwood oil, incense sticks, Handicraft products, silk sarees and rosewood items are some of the popular things which you can buy from here.
Museums of Mysore
Tourists can visit the museums of Mysore during this Mysore trip including Mysore Sand Sculpture Museum, Regional Museum of Natural History, Folk Lore Museum, Rail Museum and Wax Museum - Melody World.
Whether you are looking for a weekend getaway or looking for some special holiday so that you can spend quality time with your family and friends, then Mysore is the right choice and it has various attractions to serve its tourists.