Planning for a holiday trip is a quite fun experience and Holidays are always looked up by everyone as sure stress busters. Northern part of India houses a part of the Himalayan mountain range and offers Dharamshala which have great views of the majestic snow capped peaks along with adventurous activities.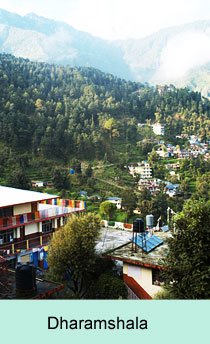 This place of Himachal Pradesh is one of the favourate tourist destinations of all over India. So forget all your tensions and have a relaxing and soothing holiday trip at this place.
Dharamsala, has a number of options on behalf of tourism. During this tour package you will get a chance to feel and explore a mix of art, culture, religion, adventure, snow-capped mountains ,beautiful green landscapes, attractive and exciting river valleys, rivers and of course, entertainment. It is actually the right place to spend vacations.
This alluring hill station is nestled in Dhauladhar range of Kangra town and filled with natural beauty. This exotic tourist destination is furnished with a wonderful collection of snowy peaks, pine forests and tea gardens.
There are two main parts of Dharamsala name as Lower Dharamsala and upper Dharamsala. In Lower Dharamsala tourists can explore a great collection of civil offices and business foundations and upper Dharamsala is filled with some historic places including McLeod Ganj and Forsythe Ganj.
In short Dharamsala is one of the favourite tourist destinations. It is also a hub for those visitors and learners who wish to learn more about world famous Buddhism and Tibetan culture. Here you can see a number of Gompas showing the super value of Tibetan cultural and architectures.
During the trip of this elegant village Dharamsala tourists can provide their mind a calm and soothing atmosphere at the same time they can do some adventurous activities.
Trekking in Dharamshala
Trekking in Dharamshala is part of world of adventure tourism. The highlights of Trekking in Dharamshala are like to relive himself, to realize Dharamshala beauty, to interact with its generous, friendly peoples. Trekking is one long term activity that draws repeat visitors. The high snow capped mountain peaks of Dharamshala provide the best location for Trekking. Trekking camp options are also available at Dharamshala.
Rock Climbing
Rock Climbing is also another adventurous activity for adventure lovers at Dharamshala. Nayagroeon rock provides the best opportunity for rock climbers. Rock Climbing is a perfect combination of achieving skill and physical strength of climber including the Maintenance of the rope.
Paragliding
The condition of the weather is suitable in Dharamshala to enjoy the paragliding. Usually two different types of flights are offered; inexperienced visitors are suggested for short flight.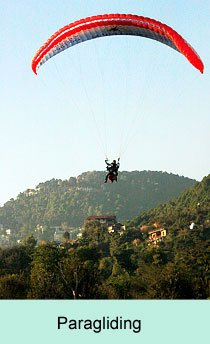 On the other hand the tourists who are interested enjoy the thrilling experience there is a high flight this high flight is conducted by experienced pilots.
Temples at Dharamshala
At Dharamshala tourists can visit Bhagsunath Temple. This ancient temple with awesome architecture is nestled near Dal Lake and McLeod ganj. Jwala mukhi Temple which was constructed by Sikh Raja Khaak Singh is another destination to explore in this Dharamsala holiday tour. Superb architecture of Jwalamukhi Temple with gold laden pinnacles and silver doors impresses all viewers. Visit the Tsuglakhang Complex, which contains the residence of the Dalai Lama.
Horse Riding and Cycling
Visitors can enjoy this classic mountain biking activity in Dharamshala. Fresh air, attractive tracks and the long lasting fragrances of beautiful flowers of this panoramic village provides the best conditions for biking. Thrill loving tourists can also enjoy a wide view of Kangra valley and scenic deodar forests while riding on the horse back. Snow-capped mountains and beautiful green landscapes of this scenic rural area also add joy to Classic Mountain biking and riding on a well trained horse.
Sightseeing at Dharamsala
There is a lot to visit at Dharamsala and presently it is become international, with a number of Tibetan settlements and the residence of Noble Laureate the 'Dalai Lama'. You can visit McLeod Ganj, Masrur, popular for various rock-cut temples. Kangra Museum showing Tibetan Buddhists and the Kangra Valley culture. Kangra Fort, Namgyal Monastery and many more.
Dal Lake
Spreading across 1 square kilometer this beautiful lake is nestled in between hills, juniper forests and deodar tress. This lake is situated next to Tibetan children's village. Being one of the popular picnic spot. This place is also considered as the best place for starting excursion and trekking. There has a small and scared Shiva temple on the bank of this river.
During your Dharamsala holiday tour you can experience the tranquility of this gorgeous hill station of India