Jodhpur, the second largest city in Rajasthan is nestling inside Thar Desert's depth. Jodhpur is known by various nicknames like land of death, Due to its sunny and bright weather, it is also known as Sun City and As it is located on the edge of the Thar Desert, it is also known as the Gateway of Thar. Most of the buildings located in Jodhpur city are painted in blue colour and hence the city is also known as Blue city.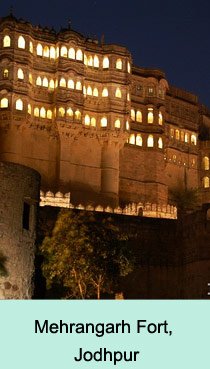 Jodhpur is a city of forts, palaces, historical monuments, beautiful lakes, royal feel, pristine elegance and beauty. This city is always been a place of attraction among tourists. Tourist can merge with the culture, the colors and the smells of all natural things. While travelling at Jodhpur a person feels like a king and gets a taste of the royal life.
The past of Jodhpur spin around the Rathore clan. It was founded by Rao Jodha in 1459. It was previously known as Marwar enclosed within six gates. At the time of British Raj, Jodhpur was the famous dwelling place of Rajputana families. It is also the largest city of Rajasthan by geographical area. After the Indian independence, it connects with the union of India and presently it became the second largest state of Rajasthan.
Presently Jodhpur city is the interested area for tourists. There are a number of fun things to do for tourist's like-
Mehrangarh Fort
Mehrangarh Fort or the Majestic Fort is a amazing and a huge fort covering an area of 5 km. This is the largest fort in Rajasthan and one of the largest in India. Combined spot of museum, Moti Mahal, Phool Mahal and Sheesh Mahal.
Janaki mahal, Chandan mahal, Royal Durbar Takht and Rang Mahal are some other places which add the charm and beautify this fort.
Sightseeing tour of the city and lakes
There are many interesting and historical places to visit for tourists like Jaswant Thada, Mandore Garden, Khejarla Fort and Umaid Bhawan Palace. Umaid Bhawan Palace is the largest palace built in India and the Maharaja of Jodhpur still remains here. Khejarla Fort is another stunning site to visit in Jodhpur. There are also beautiful lakes like Kailana Lake, Balsamand Lake and Gulab Sagar Lake which are amongst the list of places visited by tourists.
Temples of Jodhpur
Tourists who are interested in visiting pilgrimages are coming to the right place as there are various famous and oldest temples like Ganesh Temple, Pal Balaji Temple, Santoshi Mata Temple and many more. Mehrangarh Fort also blessed with several temples.
Food at Jodhpur
There are some delicious dishes of India that have origins from the city of Jodhpur. Makhaniya Lassi, Mawa Kachori, Dal Bati Churma, Gatte ka saag, Mirchi Bada, Samosa,Pyaz Ki Kachori, the most special Gulab Jamun ki Sabji, Gulab Jamun, these are some of the special or you can say famous in dishes in Jodhpur. When you taste these wonderful mouth watering dishes, you will feel the real taste of Indian Rasoi. If you are in Jodhpur, don't miss the street food.
Festivals of Jodhpur
Jodhpur is also a center of attraction for a number of famous festivals and fairs and these are Mahavir jayanti, ganguar, marwar festival, Teej, Nag Panchmi fair and the fair of Sheetla Mata.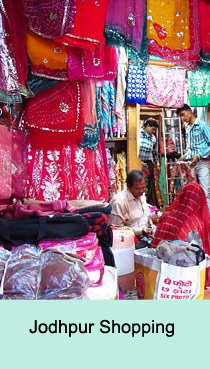 Shopping at Jodhpur
The center of attraction for the tourists in Jodhpur city is the colorful and vibrant Sardar Market. Here in the market tourists can buy handicrafts, silverware, handmade cotton and silk carpets, antiques, Spices, textiles and local dresses. Jodhpur shoes are also very famous.
Desert Safari
Jodhpur is the right place for the peoples who like to go on a camel safari and enjoy the desert. Ossiyan is the place of Jodhpur which is famous for its fantastic desert safari, rustic desert camps and racing of camels. By Camal (ship of desert) safari you can also explore the hamlets and hutments of rural Rajasthan.
The mixed charm of desert landscapes, royal forts, beautiful palaces, vibrant culture, colorful fairs and festivals of Jodhpur will definitely allure your heart.