India Tourism holiday is going to make your holiday tour a memorable and unforgettable one by providing you a chance to visit the most beautiful place in Rajasthan, i.e. Bikaner. Bikaner, the gateway city to deserts of Rajasthan, is located in North India state of Rajasthan and surrounding by 7 km long wall and 5 entrance gates.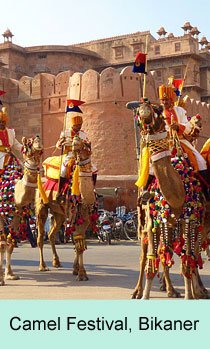 It is a right destination to enjoy a great holiday trip and incredible tourism experience of lifetime. When you will visit in this city with your households you will get a superb chance to scout its glorious past, rich culture & tradition, colorful fairs & festivals, camel safari rides, rippling sand dunes, etc.
During your vocational trip of Bikaner you can enjoy the famous Bikaneri sweets, snakes, festivals and camels fair. Camel Festival is an important event of Rajasthan which is organized every year in this city, by the Government of Rajasthan.
The city is named after its founded Rao Bika. In 1488, Bika Ji chose a barren land called "Jungladesh" and shaped it into an impressive city, called Bikaner. By the time Bikaji expired in 1504, he had broadened his state over 3000 villages. The modern Bikaner, as we see today got flourish in the supervision of Maharaja Ganga Singh.
A number of travelers and vacationers from all over the world visit Bikaner for its enticing tourist attractions and a lot of exciting activities to do like
Camel safari
The adventure of Camel desert safari of India tour will be a thrill experience that will remain in your heart for your life. Traveling through Thar Desert gives experience of different places, culture, historical ruins, attires, festivals and custom etc. Camel safari tour is the best option for them who want to visit all the real Bikaner it fort and places in a perfect manner.
Camel Festival
Bikaner Camel Festival is a great magnetism of this holiday tour of Bikaner. it is organized every year by the Government of Rajasthan. During this popular festival, vacationers have a awesome chance to see some striking and unique camel performances such as different camel races like neck shaking camel rides, a special camel dances and a lot more. This is the reason why this city has been nicknames as Camel City or Camel Country.
Junagarh Fort
This is the old age fort of Bikaner. It was constructed by Raja Raj Singh in the year 1593. The Junagarh Fort is having a 96 meters long wall, about 2 entrances and 37 –bastions. This is a very attractive Fort and covers a huge area. The most different feature of this Fort is the carving done on the stones of the walls of the Fort. There are numerous palaces inside the campus of the Fort such as Chandra Mahal, Flower Palace, Karan Mahal. There is also a museum which comprises of beautifully designed dresses, huge and small weapons, carts used by the Kings, Palakies, etc.
Temples of Bikaner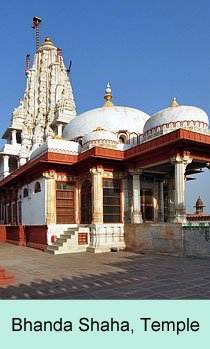 There are many temples in the Bikaner. The Bhandeshwar temple was building in the sixteenth century and is devoted to Parshvanathji, the 23rd Jain Tirthankar. You can explore Lakshminathji, Shiv Bari, Nagnechiji and Ratan Bihari temple. There is another world famous temple in Bikaner – Bahironji Temple.
Temple of Karni Mata
This world famous temple is situated in a small village, named Deshnoke. This is about six hundred years old temple and the main diety of this temple is Karni Mata who is consider as goddess Durga's Avatar. The most striking feature of the temple is that you will see a number of rats roaming here and there within the premises of the temple. The rats are regarded as the soul of Mata's devotee's and belived as very pious.
Museum
During this trip of vacation at Bikaner you must visit the Ganga-Golden Jubilee museum. In this you will be amaze to see the beautiful paintings, terracotta-ware. There is a huge collection of weapons also.
This tour of Bikaner provides your family member a great and pleasurable tourism experience that will last forever.