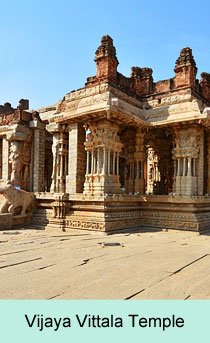 Hampi tour package will take you to visit different places of this historical place and give you the astonishing feeling in the whole trip. This tour to Hampi will also give you the opportunity to enjoy different religious and historical place in India.
Hampi is a very famous hamlet, situated in the Northern Karnataka state of India. The area of Hampi is surrounded by the passionate river Tungabhadra in north and other three sides by rough rocky granite stones.
It is a UNESCO world heritage site showcasing the rich tradition of the Hoysala architecture of the Vijayanagar kings. In general, Hampi was the capital of Vijaynagar Empire in the ancient India.
Now it is nestled within the ruins of Vijayanagar Empire, hence sometimes it is also known as 'Ruined City' and 'The Forbidden Kingdom'. Hampi is a great place to visit for spending a few days of your vacation, roaming around the monuments and the ruins of this ancient India.
The most amazing thing about this place is that during the time when Vijaynagar Empire, proliferated- diamonds were being sold in the "Paan-Supari Street" of Hampi. Now these "Paan-Supari Street" are the place of interest for visitors.
Enhanced with lofty hills and valleys, pious temples, huge forts, beautiful markets, big pavilions, wonderful palaces Hampi houses around 500 monuments, which are listed by UNESCO World Heritage Site as ''Group of Monuments at Hampi''.
During the vocational tour to Hampi vacationers can enjoy a number of sites including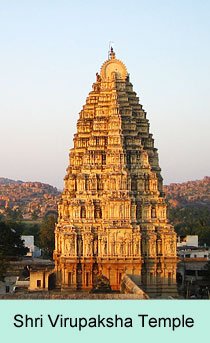 Shri Vijayavitthala Temple
This temple is dedicated to Lord Vitthal or Lord Vishnu. This is an excessively beautiful temple amaze the visitors with its charismatic architecture. The construction of temple is completed in between 1513 AD - 1565 AD. The temple is the best showcase of Dravidian architecture style.
Stone Chariot
This beautiful Stone Chariot is situated inside the premises of Shri Vijayavitthala temple. This chariot is a model of temple chariot that makes everyone dumbstruck with its architecture. It is supposed to be carved out of a single rock which cannot be seen anywhere in the world.
Elephant Stable
Elephant Stable is a long structure which was constructed for the royal elephants to give them a huge shelter. It has big rooms with high roof. It is such an amazing place to see at Hampi.
Shri Virupaksha Temple
Shri Virupaksha Temple is also popular as Pampapathi temple and it is at the foot of Hemakuta Hills. This temple is situated at the end of Hampi market. This temple is a pious house of Lord Pampa, Shiva and Bhuvaneswari.
Hampi Bazaar
Hampi Bazaar is known as Virupaksha Bazaar and the best attraction at Hampi. It is a popular market and spread around the area of one kilometer. This is a well-planned market which was once the best trading place. Visitors can purchase exotic stuff from here like precious stones, antique coins, jewellery, silk clothes, etc. they can also get handicraft items, clay dolls, colorful bags, stone work and daily use stuff.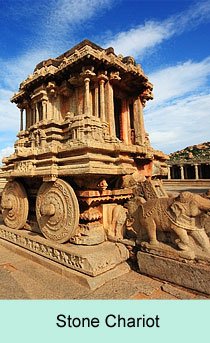 House of Victory
This place tells the story of the victory of Krishnadeva Raya over the King of Orissa. Ramaswami temple is also situated near this place. It is a beautiful place with finest architecture.
Fair and festivals
There are many cultural and religious festivals celebrated in Hampi like Purandaradasa Aradhanain January/February, Virupaksha Car Festival in March/April, Phalapuja Festival in December and many more. But the most famous festival of Hampi is Vijaya Utsav also famous as Hampi Festival. This festival is celebrated in the month of November. This three days festival is a cultural fiesta. During this festival visitor can enjoy puppet shows, music and dance shows, fireworks and a awesome march.
Archaeological Museum
The Archaeological Museum was made by the Britishers but today it is the principle attraction of the city. Presently this museum houses of four galleries and a central hall. This museum is a great collection of sculptures and assorted antiques.
These are just a few places in a town that has dozens of such monuments that will live in your memory long after you return from the visit including Underground Temple, The Lotus Mahal, Queen's Bath, Riverside Ruins and many more.
So plan a tour to Hampi and enjoy the heritage destination of the city with India tourism holiday.