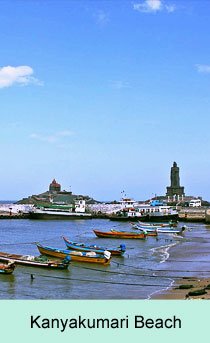 Kanyakumari the southernmost tip of India is one of the favourate and elected tourist destination, where tourists from all over the globe come to relax and spend their vacations. India holiday tourism offers you an amazing tour package for this tropical place nestled in Tamil Nadu and presents a sticking view of sunrise and sunset over the waters.
Kanyakumari situated at a breathtaking point where the Arabian Sea, Indian Ocean and Bay of Bengal merge together. Multi-coloured sands, divine Hindu pilgrimage and astonishing view of beaches are the highlights of this tour package which makes this land a real paradise on earth.
It's also a popular pilgrim spot; with visitors thronging the old temple here. It is believed that Goddess Parvati underwent the most severe penance on the rocks here in order to win the hand of her beloved, Lord Shiva. It is also consider that Kanyakumari is the place where Swami Vivekananda meditated.
It is truly spectacular place to visit having exotic beaches, some age old temples, the famous Vivekananda rock and incomparable natural beauty.
Kanyakumari, also famous as Cape Comorin is an awesome collection of tourist spots. The Great culture, historical value and arts of Kanyakumari city are marvellous.
There are several tourist places in Kanyakumari which you can visit during this holiday trip.
Beaches of Kanyakumari
Kanyakumari is one of the prime destinations for beach lovers. There are a number of exotic beaches are present here as it is the meeting point of Arabian Sea, Indian Ocean and Bay of Bengal. Visitors can relax at the sandy beaches. You can also experience the view of sunrise and sunset from the beaches.
Kumari Amman Temple
This temple is the center of attraction for tourists. The main diety of this temple is the Hindu Goddess Parvati. It is belived that the Devi Kanya waited for his beloved God Shiva till the marriage evening. The temple is famous for the religious value but Its majestic architecture attracts many devotees and tourists here. Apart from that, diamond nose ring of the Goddess also enjoys popularity all over the world.
Temple of Goddess Bhagavathi
This temple is considered as the living legend of South Indian Culture. This temple brings a large number of the visitors every year. According to the legend, at this place the deity, who was an incarnation of Godess 'Shakti' killed Banasur, a powerful devil.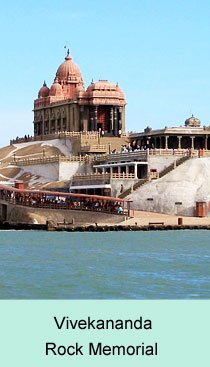 Vivekananda Rock Memorial
This temple is situated on a rock and gives the feel of an island. Dedicated to Swami Vivekananda, the temple is a blend of two different Indian architecture styles. There is a huge statue of Swami Vivekananda is situated in the temple. This temple is a symbol of spirituality.
Government Museum
Government museum is a center of attraction of this tour package. Ashes of Mahatma Gandhi were immersed in Kanyakumari and this building stands in memory of great Mahatma. This museum is a collection of bronze sculptures, tribal objects, old coins, woodcarvings and philately, zoology, numismatics and geology items.
Thiruvalluvar Statue
This grand statue is a statue of a poet having the height of 95 feet. The base of this statue is in turns and surrounded by a Mandapa. To visit the holy feet of Thiruvalluvar, 140 steps are made for facilitating the tourists. You must visit this grand statue with Kanyakumari holiday package.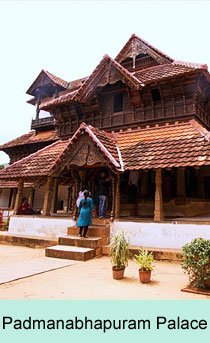 Suchindram Village
Suchindramis a small village situated on the banks of River Pazhayar. This pious village is also a fovourite destination for tourist during the trip of Kanyakumari. This beautiful village houses a age old temple which is devoted to Lord Vishnu, Brahma and Shiva.
Padmanabhapuram Palace
This amazing place is actually an old town which is surrounded by a fort. This fort is a complex of buildings including the King's council Chamber, Entrance Hall, The Navarathri Mandapa, the Mother's palace, Uppirika Malika and the house of performances. The most famous and attractive building of this complex is Uppirika Malika.
This Indian Holiday tour to Kanyakumari is the best way to ensure a life time experience of a town that gives you some new meanings of travelling.