Ooty tour Package helps the tourists to disclose the place where one can feel the charm of nature in its pristine form. This place is sought by travelers throughout the year as it maintains a pleasant and chilly climate all the time.
Being situated in the lap of nature, this heavenly hill station boasts an unmatched beauty, and invites the travelers from all over the world. Surrounded by four high-elevated hills Ooty is a popular hill resort in the state of Tamil Nadu.
With snow capped majestic hills, tranquil and scenic lakes and impenetrable green forests, Ooty tour offers a blissful experience to the visitors. It is a small hill town with the unique landscape which is filled with numerous natural wonderments, that is why this place is also known as 'Queen of Hill Stations'.
This wonderful trip to Ooty, offers amazing trekking trails, rambling tea gardens, rich flora and fauna and lofty mountains, bunch of valleys, ravines, romantic blue hills, steeping waterfalls, lakes, lush green tea plantations and gardens (both pleasant and wild ones). Deep valleys, colorful parks & gardens, and magnificent sunset views are also some alluring aspects of an Ooty tour.
In short Ooty (officially known as Ootacamund) is a true paradise for nature lovers and eco-tourism enthusiasts. Today, it has become one of the most famous holiday spots in India, and the demand for Ooty package has come from both Indian as well as foreign shores.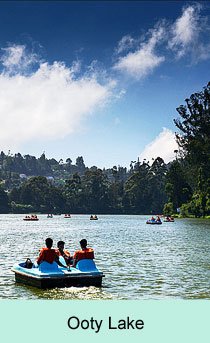 There is a number of fascinating tourist places are situated in Ooty. From historical buildings to natural stunner, and stirring wildlife to calm sports, this tour lets the tourists get in to a variety of tourism attractions including…..
Ooty Lake
This picturesque lake has long been the place to visit in Ooty. It's an artificial lake, spreading over an area of 2 km in length. Here you can enjoy a unique tranquility amidst scenic vistas with some fun-filled activities like motorboats, rowing boats and pedal boats for enjoying the scenic beauty of this place, fishing, horse riding and roaming deer also some other activities to enjoy on the lake.
Botanic Gardens
The splendid gardens are spread over an area of about 22 hectares. This place is really like a heaven. These gardens contain a wide variety of trees, flowers and orchids to explore. Visit to see a unique fossilized tree that is believed be 20 million years old. Tourists can enjoy the flower shows and cultural programs organized here.
Mudumalai Wildlife Sanctuary
It was the first wildlife sanctuary in south India. With 321 sq km area filled with different landscapes including slopes, waterfalls and big forests. The sanctuary has many species of wild animals and birds. Apart from animals and birds, the place has a rich flora to offer to its visitors.
Pykara Waterfalls
Situated very near to the Madumalai Sanctuary, the place is famous for boating. It is one of the must-see sights in Ooty. You can also visit the cafeteria for taking some rest. The dam and the powerhouse are other attractions.
Doddabetta Peak
It is the highest point of this place situated at an altitude of 2,623 meters above sea level. Large number of tourists comes here to see panoramic views of the entire Ooty town and picturesque valley.
Shopping
The main Bazaar is the hub for shoppers, where they buy a great range of things under a single umbrella. Apart from that, visitors can purchase Jewelry, painting, Handmade Chocolates, pottery, and stone crafts. You can also purchase some quality tea or coffee.
Adventures activities at Ooty
This place is also a best place for adventure lovers. Ooty is a place of many hills so a large of trekking trails is present here . This large trek for adventure-seekers makes this place a dream destination. Visitors can also enjoy some other adventures activities during this trip like camping, motor biking, fishing and many more.
Art Gallery
If you are an art-lover, you will definitely love to visit Lalit Kala Academy. This art academy has a great collection of concurrent paintings and sculptures .So, come and explore the architectural beauty at this academy.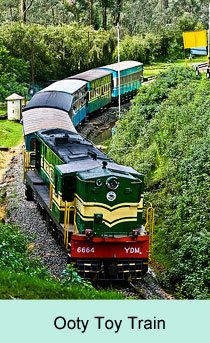 Festivals and events
During an Ooty tour, visitors can enjoy interesting events & festivals too. The annual festivals like Tea and Tourism Festival and the Summer Festival attracts a number of tourists from all over the world. Boat Races and Boat Pageantry are some other awesome events celebrated in Ooty.
Toy Train
Toy Train is also a famous attraction of Ooty. Sitting in a toy train, running in a jungle and that will speed through the slopes will be a thrilling experience for the visitors.
Tea Estate
During this trip must visit the beauty of the tea estate otherwise the trip would be incomplete. The tea lover from all over the world especially to visit and attend the Tea Festival held at Ooty.
So come and enjoy an Ooty tour and savor some unforgettable memories for lifetime!