Jaipur is a city with a gracious past and shining present, located in the western part of India. it is capital of the largest Indian state – Rajasthan. Jaipur is a tourist hub. Thousands of tourists visit this exceptionally beautiful place all through the year.
Jaipur is surrounded by rugged mountains on three sides, each crowned by fort and beautiful palaces, the mansion and gardens. These places speak about the royal families and their heritage since centuries. The forts and monuments of Jaipur will take a tourist back into the era of its origin and significance.
Jaipur is actually a tourist hub. Thousands of tourists visit this exceptionally beautiful place all through the year.
Jaipur is called as the Pink City because its houses and most monuments are painted in pink and the color of the stone used entirely in the walled city is also pink. The pink colour of the city has its own history. As pink colour is consider as the colour of hospitality. In 1876, the king of Jaipur Maharaja Ram Singh painted the city completely in pink color to welcome his guests (the Prince of Wales and Queen Victoria).
In eighteen centaury Maharaja Sawai Jai Singh II ( a great warrior and astronomer ) decided to built his capital around Amber Fort. As a result he built the first planned city of India with the help of the great architect Vidhyadhar Bhattacharya. After the death of Maharaja Sawai Jai Singh II, Maharaja Ram Singh adorned the city. The beautiful Ramgarh Lake was also built by Maharaja Ram Singh. After independence of India the city was added with Jodhpur, Jaisalmer and Bikaner by the government of India.
There are a lots of activity to do during the visit of Jaipur including-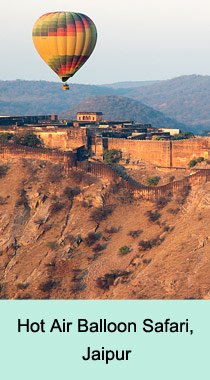 Hot Air Balloon Safari
It is one of the amazing activities to do during the visit of the Pink city. It will be a mind-blowing experience to watch this spectacular city from the sky. A person can fly like a bird over the amazing forts, palaces, lakes and landscapes of Jaipur.
Sightseeing
Jaipur is renowned for its majestic buildings which displays the characteristics of a grand and stately architecture. This glorious past of this city can be seen in the form of Magnificent palaces, huge historical forts, amazing museums, colorful old traditional markets and. Some of the must visit places without which a Jaipur tour is incomplete are Jantar Mantar, Hawa Mahal, Amber and Jaigarh Fort, City Palace, Rambagh Palace, Nahargarh Fort and the Museum.
Temples
The spirituality and peace of the temples of Jaipur will help you to connect your soul with almighty. There are a number of age-old temples. you can offer prayers at the Lakshmi Narayan temple commonly known as the Birla temple, Garh Ganesh temple, and Radha Govind ji temple.
Paragliding
Paragliding is another treat of jaipur for the adventure lovers. The environment and weather of Jaipur provides suitable conditions to arrange Paragliding here. Paragliding provides you the artificial fabric wings by which you can reach the sky and fly like birds.
Shopping at jaipur
The colourful markets of jaipur are famous all around the world. It's a great place to find carpets, jewelry and handicrafts or to get unusual camel leather slippers or bags at the bazaars. You can purchase all kinds of goods from exquisite jewelery to dainty jootis (traditional leather slip-on shoes, decorated with colorful embroidery).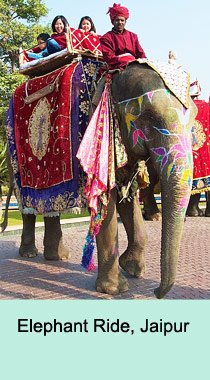 Elephant and camel ride
Elephant and camel ride is the prime attraction of Jaipur. Most of the tourists visit here to enjoy these royal rides. This slow motion and enjoyable ride is much famous in childrens. You can enjoy this ride around Amber Fort.
Ayurvedic massage
Jaipur is also known for its Ayurvedic massage. Tourists can refresh their mind and body this massage which based on the principals of old Ayurveda.
Fairs & Festivals of Jaipur
This city hosts numerous festivals which attracts a large number of people from far and wide. Some most attracting festivals the city hosts include the Ganguar,Jaipur Litrature Festival, Paush Dashmi, Kite Festival and Elephant Festival.
Food of Jaipur
For food lovers, Jaipur tour is always a blissful journey. Most of the cuisines are enriched with ghee, khoya and dry fruits and delicious in taste. Some of its famous dishes are Dal-Bati Churma, Gatte Ki Sabji, Mawa Kachori, Rabri and Makke ki roti etc.
Apart from this there are many more things to do or see at Jaipur.