Munnar is the place where everyone wishes to spend their holidays. Munnar is the perfect place for those who want to explore the beauty of nature and for those tourists who are in search of a place away from the hectic city life.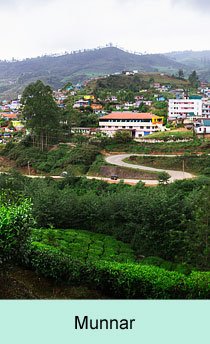 By choosing this tour package you can visit this exotic tourist destination which is a beautiful hill station of India often referred as Kashmir of the South. It is situated at union of three mountain streams Mudrapuzha, Kundala, Nallathanni. The name of this city Munnar is derived from Malayalam language which also means three rivers.
Every corner of this city is surrounded by fragrant tea and coffee plantations. This trip of holiday serve you the live images of dazzling tea gardens, picturesque landscapes, forests, national parks, wildlife sanctuaries, valleys, lakes and tea, coffee plantations waterfalls, scenic greenery, panoramic view of the lush green hills, picturesque town and exotic flora and fauna. All these enticing attractions make the place truly a perfect place for vacations.
Due to its dizzying heights and mesmerizing attractions, it attracts tourists, nature lovers, adventurous lover and honeymoon couples from all the nook and corner of the world. So in this holiday pack up your bags and spend some time in the Lap of Mother nature to make it a lifetime experience.
There are some key attractions of this vocational trip to see and explore in Munnar
Eravikulam National Park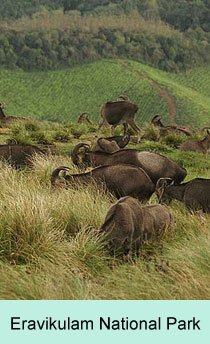 Eravikulam Park is situated just 15 kms away from Munnar in Kerala. It is a very popular wildlife sanctuary and famous for housing the largest population of Nilgiri Thar also known as the Himalayan Goat. Apart from that one can also see various colorful birds, wild dog, Golden Jackal, Sambar Deer, Nilgiri Wooden Pigeon, Black and Orange Fly Catcher. This sanctuary is gem in the crown of the Munnar hill station.
Pothanmedu
Pothamedu is also a popular tourist destination in Munnar. It is the major plantation hub famous for its enticing hills with spice plantation, coffee and tea plantation. Trekkers and adventure freaks are trekked over these rough mountains for an adventurist holidays in Munnar. Mountain walker also roam at this place as this place commands breathtaking view of scenic natural beauty and well organized tea bushes.
Anamudi Peaks
These peaks are the highest peaks in south India located inside Eravikulam National Park with a height over 2700 m. Anamudi Hill boosts of its unique charm and splendor of the nature, rare species of flora and fauna as well as boosts of offering panoramic view of the grandeur natural beauty that is simply outstanding and mesmerizing. Permissions from forest and wildlife authorities are required for every trek to climb the mountains.
Devikulam
Devikulam is a beautiful hill station located near Devikulam Lake and just 7 kms away from Munnar. The major attraction of this hill station is wide collection of exotic flora, verdant lawns which embraces the mind of refreshment. Trout fishing in lake is another attraction of this tourist destination.
Munnar Tea Gardens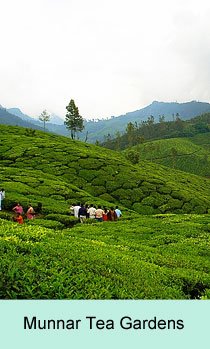 Munnar is also famous for its manicured tea gardens. Because of the presence of these Tea Gardens Munnar developed into a main commercial center for Kerala. In total there are about 30 tea plantations in Kerala and most of them are owned by TATA's group by the name of Kannan Devan Tea Estate. The ever ending tea gardens beautifully filled with charming and mesmerizing look that lures the heart of the tourist and honeymooners visiting for Munnar Tour.
Shopping at Munnar
Of course the main thing which tourists can buy from munner is tea. It is really worth buying from Munnar. While visiting the local market of Munnar you can also purchase some fragrant fresh spices right out of the mill, luscious strawberries and locally produces spices and some hand made things.
Christ Church
Last but not the least another attraction of this Munner trip is Christ Church. It was constructed in the year 1910 by the British and is entirely made up of stone. Its stain glass windows and brass plaques make it more attractive and more popular in visitors.
So, make this vacation exciting and unforgettable for your loved ones, by simply clicking this holiday tour package of Munnar, the paradise on earth.