Do you want to provide your family a lifetime experience holiday tour? Then we offers you 'Kochi Vacation Tour 'which allows you to an effortlessly and most luxurious holiday trip of Kochi. It also provides you an awesome experience that can only be imagine.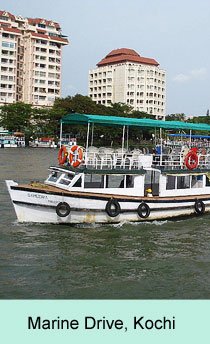 This place is an ideal for those tourists who are in search of a calm and restful experience of the vacations. This beach (Kochi) tour offers a calm and tranquil atmosphere for the tourist. Initially Kochi was a simple fishing village, but after the establishment of the beach, it became a popular beach resort of Kerala, South India.
Kochi, sometimes called "Cochin," is a modern and lively city of Kerala situated in the south West India and bordered with Western Ghats on the East and the Arabian Sea on the West. This city is also known as the Gateway to Kerala and the queen of the Arabian Sea.
This mesmerizing seaside city is actually a combination of islands and small peninsulas (Ernakulum, Willinton Island, Mattancherry and fort Cochin).
This amazing Tour Packages is an extremely interesting and offers you Cochin backwaters with a string of lovely islands, lagoons, swaying palm trees and tiny rivulets add to the beauty of backwaters. This backwater trip offers you rejuvenating and relaxing trip to you and your family.
During your Cochin tour you can come across the mesmerizing views of the coconut trees, fishing nets, sunsets, Chinese fishing nets at fort Cochin and many more. In South India, it is one of the most famous and visited beach tour destinations. This is a peaceful beach holiday spot.
From churches to monuments Kochi tour package makes a good choice for the visitors. This seaside city offers you a lot to visit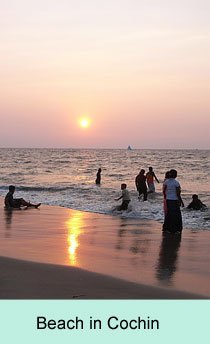 Kochi Backwaters
Kochi serves as the starting and ending point for several backwater destinations and so it the most preferred backwaters of Kerala by the visitors and tourists on their holidays. Visitors will explore the popular backwater places of Kochi by the help of houseboat cruise that take them close to the charming surroundings of backwaters.
Marine Drive
This is a picturesque promenade in Kochi facing the backwater. It is the favourite hangout of tourists where they can spend their leisure.
Kochi Beaches
Kochi is one of the most famous Beach tour destinations of India. The calm and tranquil atmosphere of these beaches offers the tourists a quiet and relaxing experience of the holiday. Once Kochi was a simple fishing village but after the establishment of many beaches, it became a popular beach resort of Kerala.
Fort Kochi
Fort Kochi is a tiny village near Cochin which depicts picturesque beaches and thrilling shores along the western coastline. It is prominent place in Cochin Tourism as travelers come here to get relaxed and feel the cool and calm ambience.
Chinese Fishing Nets
Chinese fishing nets are famous and distinct attractions, which can only be foun in Kochi, not anywhere else in the world. During this Kochi trip visitors can see rows of Chinese fishing nets exclude on the seashore. The rows upon rows of these nets expand the beauty of Kochi beaches which attracts visitors the most.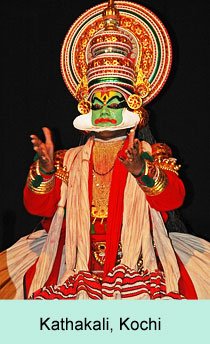 Food of Kochi
Kochi is a paradise for food lovers that offer a large menu of mouth watering delicacies. The traditional food of Kochi is like the Appam resembling a Dosa, the 'Kappa' which tastes the best when taken along with curries made from fish; the 'Puttu 'which is steamed rice powder mixed with coconut gratings, the 'Naddan tharav curry' a curry made out of Duck meat. There is no dearth in availability of fresh sea food also.
Kathakali Performance
Kathakali is a very unusual soulful and meaningful form of dance-drama of Kerala. The theme of the dance can be anything from a mythological tale to the retelling of the Indian epics. There are many cultural centers at Kochi where you can visit and enjoy this ancient dance form.
Apart from this visitors can also enjoy Ayurvedic treatments and yoga facilities, St. Francis Church, Sunset Cruise and some more alluring and excellent places. Starting from churches to monuments this travel destination makes a good choice among the tourists on their Cochin tour.