To choose a holiday tour package to Bangalore can be an intellectual and sensible decision for those visitors who wish to spend some quality time with their dear and near ones, away from the disturbance and puzzlement of the hectic city life.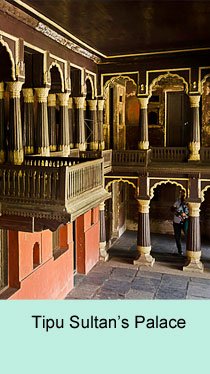 Bangalore is an exciting holiday destination. Bangalore is the capital of India's southern Karnataka state. This city has been addressed by so many names like the Garden city, Bengaluru, Silicon Valley of India, South India's Cultural Capital and so on.
It is not only a city which is rich in greenery and contains a huge open area of forest but it is something more than that. This city is considered as the most modern city of India. It is a dominating city in industrial development and has many biggest malls in compare with the other metropolitan cities of India.
During this trip of vacations visitors can enjoy this quite pretty city with green gardens, high- rise- buildings, broad and spacious roads, dynamic markets, aplenty beautiful parks, living lakes and soothing climate.
Tourists can enjoy worthy time in city's amazing gardens with family or friends. From natural beauty to historical charm and interesting cultures to inviting modernism, Bangalore has enough to lure its visitors. Some things to do and Must-visit attractions of this city are-
Tipu Sultan's Palace
Tipu Sultan's Palace is an Indo-Islamic architectural building which was once the summer residence of Tipu Sultan, the Mysorean king. The most amazing fact about this building is that it is completely constructed with the wood of teak tree and sand. The other decorative and attractive things are the pillars, arches and balconies of this place.
Bangalore Palace
This beautiful stone palace was constructed in between 1862 – 1944. This place covers an area of 450-acre in the North Bangalore with Tudor style architecture. The huge surrounding garden with various species of trees, well fortified towers, arches, elegant woodcarvings in its interiors and the most alluring nearly 30000 paintings attracts the visitors.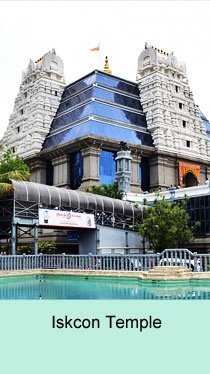 Temples at Bangalore
There are a number of pilgrimage sites at Bangalore. The most famous and visiting temple is the ISKCON temple of Bangalore built with the ornate architectural style this temple is devoted to lord Krishna. Apart from this the other famous temples are Dharmaraya Swamy Temple, Ranganathaswamy temple, Halasuru Someshwara Temple, Bull Temple, Kote Jalakantheshwara temple, Kote Venkataramana Temple and many more.
Some other places of worship for other religions are Memorial Church and Christ Church are the two remaining "Original Anglican" churches, St. Mary's Basilica, Infant Jesus Church, Masjid-e-Khadria, Gurudwara Sri Guru Singh Sabha,Ulsoor, Poornaprajna Vidyapeetha an old and tradition Gurukul.
Museums of Bangalore
In Bangalore you will found a number of Museums in compare with any other city of India. You can visit Government Museum, Kempegowda Museum, Karnataka Folk Museum, HAL Aerospace Museum, Madras Sappers Museum & Archives and many more.
Gifts of Nature to Bangalore
During this trip you can enjoy to see some natural places including Nandi Hills also known as Nandidurg, this hill is the origin place of the Penner, Ponnaiyar and Palar rivers. Thottikallu falls also known as TK falls. Kaivara the famous cave temples, Tippagondanahalli Reservoir. Last but not least visitors can also see a 400 years old banyan tree which covers an area of 3 acres and named as Dodda Alada Mara.
Lakes at Bangalore
Bangalore was once boasting of over 100 lakes but unfortunately at present some of them are surviving include Ulsoor Lake, DRDO Lake, Sankey tank, Hesaraghatta Lake, Yediyur Lake, Nagavara Lake and many more.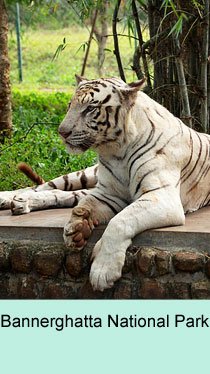 Bannerghatta National Park
Covering an area of 25000 acres this national park is situated around 22 km from Bangalore. Visitors can spot a number of animals like tiger, lion, panthers, deer, elephant and a variety of reptiles and birds. A natural zoological reserve inside this park makes this a major tourist attraction of Bangalore.
Wildlife lovers can also visit Butterfly Park to see over 20 species of butterflies, Birds at Hebbal Lake to see many species of water birds and Bangalore Aquarium which consider as the second largest in India, to see an exotic variety of fishes.
Cubbon Park
This wonderful green Cubbon Park is spreads over 300 acres, situated in the heart of the city. This 19th century park was created by Major General Richard Sankey. There are a number of trees and plants and the park is distributed with many buildings.
This park is also famous for its Kids section known as Jawahar Bal Bhavan. This is a play station for kids with a toy train, boat ride and a children's library.
High court or Attara Kacheri
Attara Kacheri is the high court of Indian state of Karnataka, which is located in Bangalore. It is a red bricked beautiful buiding in Gothic style architecture.
Bangalore is also known for its nightlife and it is impossible to recite the beauty of this amazing city as it has so many places and things of interest. Click the Bangalore holiday tour package and be a Bangalore traveler in upcoming months.