Pench National Park Safari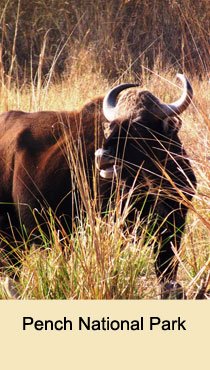 Pench National Park ("Tiger Reserve of India") is located in two districts of Madhya Pradesh i.e. Seoni & Chhindwara districts; it extends over an area of 257 sq. km. It is fledgling in the bottom area of the satpuda hills. This national park is named after Pench River, flows through the park from north to south; this river splits the park into almost equal western and eastern parts. The extensive beauty of this park is descripted in several natural history books like Ain-i-Akbari and the Jungle Book.
The wildlife safari is the only medium to explore the natural wealth and richness of Pench National Park. During your safari you can enjoy the high density of prey animals near Pench River. Pench National Park is especially famous for Tiger, Leopard, Indian Bison, Sambar, Nilgai, Cheetal, Wild Pig and Wild Dog. Jackals, Crimson breasted barbet, Rhesus monkeys, Red jungle fowl, Redvented bulbul, Porcupine, Pangolin, Mouse deer, Racket tailed drongo, Magpie robin, Peafowl, Elephants, Crow pheasant also can seen. There are more than 210 species of birds including migratory birds so it is a paradise for bird watchers also. You can commonly found Langoors roaming here &there in the park.
Pench is a naturalist's dream come true, it is blessed with tropical dry and moist deciduous forests spread in all the direction. Dominated by hills, forests and valleys there are a number of streams, water pools and 'nallahs' including a rich variety of aquatic life. Pench is also known for water rafting. This park has three entrance gates for tourist's entry namely Turiya, Jhamtara and Karmajhiri.
Best Management Award is also won by Pench National Park in year 2011.
Safari zones at Pench National Park
There are twelve safari zones namely Turia Gate,Alikatta ,Piyorthadi ,Junewani Talao ,Jamun Nala Area ,Chindimatta ,Sitaghat /Raiyakassa ,Kalapahad ,Bodha NalaBaghin Nala ,Bijamatta Karmajhari. But the most common and famous among the tourists are -Turiya, Jhamtara and Karmajhiri.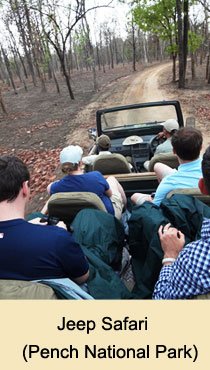 Safari at Pench National Park
Gypsys
Gypsys safari is the most suitable and comfortable and safe medium of safari in a national park. Tourists and wildlife lovers can click pictures very easily. Each Gypsy is allowed to carry 6 adults including driver and a well knowledgeable and experienced guide. In a day, two rounds of safari drivers are allowed either in the morning or in the afternoon. There are three entrance gates of the park from the entrance gate counter tourists can hire the Gypsys.
During your safari you have a chance to do elephant ride. Nature walk and teaks are also allowed in some areas of the park under the supervision of a trained guide.
So this holiday plan for Pench National Park once known as Leopard County. Really it will be a memorable experience for you and your friends & family.