Kanha National Park Safari
Kanha National Park is most striking and one of the finest and best administered National Parks in Asia situated in the Maikal range of Satpuras On the edge of the Banjaar River in Madhya Pradesh, the heart of India. It stretch over 940 sq km forming the central Indian highlands. Kanha is one of the nine reserves selected for the project Tiger and today it boasts of a significant number of the tigers. This National park has been the source of inspiration for a famous writer Rudyard Kipling for his invention of "The Jungle Book".
With jungle safari to Kanha Reserve you can take a closer look to the wild animals and it can directly take you to the paradise of the wild species. You can enjoy all kinds of deadly or predatory species including the tigers. Apart from Tigers, one of the other main attractions of this park is the species of the barasingha, or the swamp deer. These Barasingha's are close to extinction and its last world population is in Kanha National Park and it is a different and exciting experience to watch the barasinghas at Kanha.
Undoubtedly Kanha National Park provides you a perfect of wild animals which allure you like sambhar, chital, nilgai, jungle cat, python, tiger, leopard, barking deer, black deer, black buck and and many more. There is also a number of bird species in the park include storks, teals, pintails, pond herons etc.
In your jungle safari you can capture the magnanimous images in your cameras. Apart from the wild animals this safari gives you a chance to enjoy picturesque topography with huge plateaus, meadows, valleys, huge grass-lands and meadows. Banjar and Hallon are major rivers around which whole national park is flourished and you can see the animals roaming around in search of water and drinking water near these water sources.
Kanha National Park also provides you a forest guide, who offers you valuable inputs on the history of the park, and tells you about the rules inside the park and unique vegetation. Along with this he will also guide you to recognize the sounds of animal's movement of deer/langur, and to specific birds.
Safari zones at Kanha National Park :-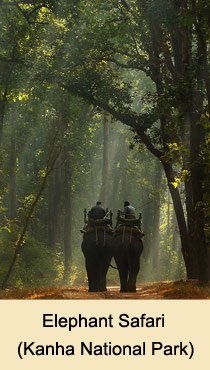 Kanha National Park is divided under 4 zones namely Mukki, Kanha, Kisli, and Sarhi zones in which tourists can undertake their safari drives. Kanha zone also known as premium safari zone and maximum numbers of tiger sightings take place here. Mukki Zone is also an ideal zone to look for Tigers. Kisli Zone offers a good chance to see birds and tigers. In Sarai Zone you can found Nilgai or Blue Bull, tigers and other animals.
In Kanha National Park you can enjoy two kinds of safaris.
Jeep safari at Kanha National Park
Jeep safari is an adventurous and flexible way to explore especially those places, which are difficult to travel via any other mode of transportation. It gives an opportunity to travelers' wildlife experts and wildlife photographers to capture some precious images. Jeep safari can be done 02 times in a single day in the early morning hrs & the other one in the late afternoon. It is a 06 seater open vehicle along with one naturalist and one driver.
Elephant safari at Kanha National Park
Elephant safari is the most adventurous safari and being regarded as the 'star attraction' of the jungle. You can see a closer and safer look to the most majestic animals including the royal tiger and Barasingha. The enjoyment of watching these animals and all the pretty sights will be double after sitting on the back of an elephant. You can visit those places inside the park which are not approachable by jeeps.