Gir National Park Safari
The Gir National Park or wildlife sanctuary is situated in Talala taluka, about 60 km. from Junagadh of Gujarat India. This national park acquires an area of 1412 km². The Gir National Park also known as Sasan- Gir or Gir van all over the world. It is one of the oldest wildlife sanctuaries of India.
The Gir National Park is famous as it abode to 'Panthera leo persica' familiarly known as Asiatic lion. This national park is also the last home of the Asiatic Lion. Presently it is the only place in the world where we can see this animal in their natural surroundings. There are around 350 Asiatic lions in the world and all of them are in Gir National Park.
The best way to observe this Asiatic Lion and a number of other animal species is, of course the jungle safari at Gir National Park. The Forest Department organizes guided trips of safari to watch these spectacular closely. Other animal residents of the Gir national park are Sambar Deer, Chital Spotted Deer, Nilgai Antelope, Chowsingha Four-Horned Antelope, Chinkara Gazelle, Wild Boar, Langur Monkey, Porcupine, Langur, Blackbuck, Mongoose and the Indian Chousingha, the four horned antelope and about 200 varieties of birds like Paradise Flycatcher, Bonneli's Eagle, Crested Serpent Eagle, Woodpeckers Flamingo etc.
This sanctuary also has huge water bodies which are good for marsh crocodiles and birds. There is a crocodile breeding farm known as Sasan. Apart from this you can also enjoy the evergreen flora, natural Hot Springs, grasslands and rocky hills, scenic surroundings, seasonal rivers and streams, large water bodies and the Kankai Mata temple.
Safari Zones
at Gir National park
There are 4 safari zones at Gir National park - Kanha safari zone, Mukki safari zone, Sarhi safari zone and Kisli Safari Zone. Kanha safari zone is also known as premium safari zone and it is most popular zone among tourists.
Safari at Gir National Park
You can visit the Gir National park by having a jeep ride with a professional and experienced guide, who will who guide you throughout the journey and gives you all the information.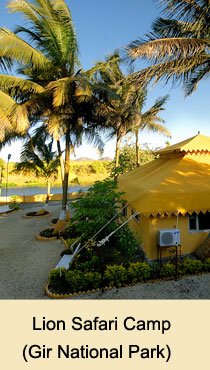 Jeep safari
Jeep safari is the only option of safari in Gir National Park. During your safari you can spot the Lions from open-roof jeep, roaming in their natural habitat. There are 3 safari trips everyday and Maximum 6 persons are permitted to sit in a safari jeep. A ride in wild jungle is such an unforgettable, Heart pumping and full of adventure experience. Through jeep safari you can explore the inner flora and fauna of the jungle.
Lion Safari Camp
There is a Lion show also available at Gir National park, organized by Forest Department. Where tourists can watch lions on the hunt in the Dewaliya area. This "lion shows" is the major attraction of the Gir National Park.
So this holiday come and enjoy the flora and fauna of Gir National Park.