Bandhavgarh National Park Safari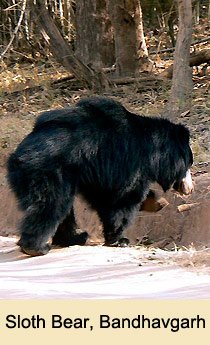 Bandhavgarh National Park is the most famous national park spread at vindhya hills and lies mostly in Umaria district and partly in Katni district of Madhya Pradesh, India. It covered with about 32 hills and has the area of 448 square kilometers. Bandhavgarh presents a perfect picture of environment with lush greenery and animals and birds living in the natural habitat.
If you wish to spend some time in the natural surroundings the jungle safaris in Bandhavgarh national park is the best option to capture your imagination and fulfill your dreams. Because of great probability of tiger sighting, it is best known as the 'tiger land' of India. Around 400 tigers have their habitat here and it is also the original home of all the white tigers. India's first white tiger was also found in this forest. Here you can see tigers in their natural habitat, along with several other animals and different species including Sloth Bear, Nilgai, Leopard, Wild Boar, Chital, Faced, Langur, Elephants, Sambar, Chausingha, Deer, Chinkara, Indian Bison and much more. You can also found more than 250 different species of Birds.
This Bandhavgarh national park also provides you experienced and trained Guides who accompanied you throughout your journey and gives you all the information about location details, wildlife of park, birds checklist, ancient caves, heritage fort etc. During safari drive, guide service is compulsory on each safari vehicle.
Safari at Bandhavgarh National Park is a treat for adventure lovers and wildlife photographers. You can enjoy chirping of birds, the sounds of the countless or extremely great number of jungle animals, and the whisper of leaves with the breeze touching them and provides you an unforgettable experience.
There are 3 different safari Zones in Bandhavgarh National Park. Tala, Magadhi and Khitauli. Tala Safari Zone is also known as premium safari zone. It is the most popular safari zone and famous for tiger sighting. Magadhi is also famous for tiger sighting you can also see Sambar and deer. Khitauli Safari Zone is famous for Sloth, Birding and Blue Bull Sighting.
Safaris in Bandhavgarh National park
Jeep Safari in Bandhavagrh National Park
Open Jeep Safari added excitement and fun to the journey and it is the best way to explore the flora & fauna of Bandhavgarh National Park. It provides the flexibility to explore especially those places, which are difficult to travel via any other mode of transportation. In a day, two rounds of safari drivers are allowed either in the morning or in the afternoon. Maximum 06 persons are allowed to sit in a safari jeep.
Canter Safari in Bandhavagrh National Park
You can enjoy your safari by Canter service also known as the Open Bus safari to explore the Bandhavgarh National Park. Apart from jeeps, open vans or canters, can carry up to 16 people, are also used to carry large groups of people into the park. Like jeep safari it also can take two rounds in a day.
Elephant Safari in Bandhavagrh National Park
The best way to enjoy the sightseeing of the majestic animals is on the back of the elephant. It is most royal way to explore the jungle is Elephant Safari. You will never forget the experience of sitting high atop an elephant in a teak wood chair, through the cool jungle of Bandhavgarh. This elephant safari takes you through the mysterious parts of the jungle. You can get the opportunity to see tiger and other wild animals and can have a very safe tour while sitting on the height of the back of elephant.
This wildlife safari to Bandhavgarh National Park will be the best time of your life. So plan a journey to Bandhavgarh National Park and enjoy.