India have a very diverse geography and climate and due to its diverse topography and varying climatic conditions it the most surprising and stunning travel land and ideal location for wildlife tourism, which provide home to a vivid range of flora and fauna. It is a actual treat for the animal lovers and for whom who want to know about the wild animals in a better way ,only the Indian wildlife safari is the best way to explore the life of nondomestic animals. It gives you an adventurous and enthralling experience at every point of your hunt; here you will get an opportunity to visit the beautiful and mystical jungles to see the leopards, one horned Rhinoceros, birds, elephants, reptiles, bears, and wild dogs in their natural mood. The main attraction of Indian jungle safari is obviously the "King of the Jungle", its majestic tigers and it is amazing to sighting a tiger in wild, from one seeing in a zoo or a circus.
Tourists can trace rarely seen wild creatures and take majestic snaps by open top Jeeps safari and elephant-back rides. It is very bold experience to ride on the back of the beautifully decorated elephant through the wild and dense forest and see the animals doing lovely activities including chattering of monkeys, sometime you can also see elephants taking bath in the water ponds and royal tigers in their natural habitat. Rickshaw Safari is also available in some famous bird sanctuary in India; you can enjoy horse safari and bejeweled camel (ship of the desert) safari in Rajasthan.
But the highlights don't stop here, it is also a heaven for the nature lovers where you can witness the majestic mountains, valley, alluring lake surrounded by lush green forests, deserts, rain forests, plains and grasslands, a amazing fact is that the animal safari is also a part of Indian culture. Apart from this, India is well renewed for its rich cultural heritage, climatic conditions and amazing people. India is enriched with a number of striking wildlife destinations, spread throughout the country from east (Kaziranga and Manas), to west (Tadoba) and from north (Corbett), to south (Periyar and Bandipur). There are around 89 national parks and more than 400 wildlife sanctuaries including 2,000 bird species, over 500 reptiles and amphibian and 30,000 insect species with some beautiful butterflies. Some famous national parks and sanctuary are :

1 :- Ranthambore National Park
2 :- Kanha National Park
3 :- Corbett National park
4 :- Kaziranga National Park
5 :- Bandhavgarh National Park
6 :- Periyar National Park
7 :- Gir National Park
8 :- Bandipur National Park
9 :- Pench National Park
10 :- Rajaji National Park
11 :- Keoladeo National Park
12 :- Aralam Wildlife Sanctuary Kerela
13 :- B R Hills Wildlife Sanctuary
14 :- Assan Barrage Bird Sanctuary
15 :- Chilka Lake Bird Sanctuary
16 :- Dandeli Wildlife Sanctuary
17 :- Bhitarkarnika Wildlife Sanctuary.
Presently, accommodation is arranged in the best way, a number of luxurious and safe lodges and hotels are situated outside the forests, some of them are situated within the forests, so come to India for a perfect wildlife holidays and explore the wildernesses which will give you a lot of unforgettable memories of wildlife tour and you would like to come back again and again.
Wilflife Safari In India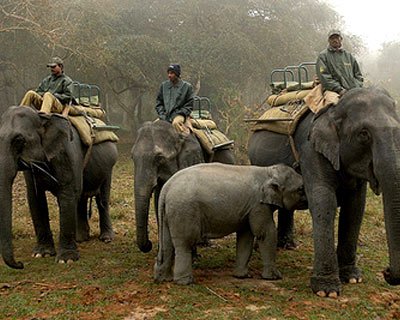 Elephant Safari Corbett Tour
India Wildlife Adventure
Duration : 13 Nights / 14 Days
.........................................................................
Destinations : Delhi - Ranthambore - Bharatpur - Agra - Umaria - Bandahavgarh - Kanha - Jabalpur.
.........................................................................
Attractions : Tigers, Birds, Elephant Safari, Jeep Safari, Taj Mahal.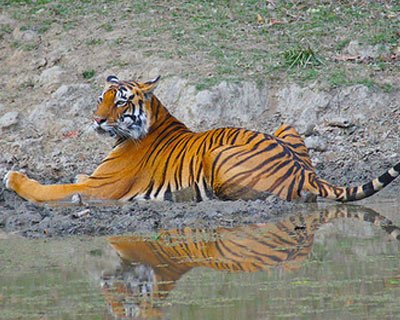 Ranthambore Tiger Tour with Golden Triangle
Duration : 14 Nights / 15 Days
.........................................................................
Destinations :Delhi - Kathmandu - Royal Chitwan - Kathmandu - Delhi - Jaipur - Ranthambore
.........................................................................
Attractions :Tigers, Birds, Elephant Safari, Jeep Safari, Taj Mahal.