Kaziranga National Park Safari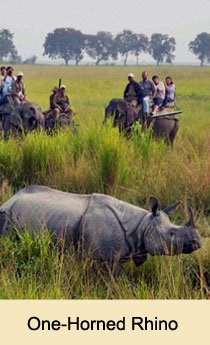 Kaziranga National Park is the most notable wildlife sanctuary located in Golaghat and Nagaon districts of the state of Assam covering an area of 430 Sq kms. This prestigious national park of India is surrounded by mighty Brahmaputra River on the North and the Karbi Anglong mounts in the South. In this most notable wildlife sanctuary there is high density and great visibility of many species as it is inhabited at an edge of the Eastern Himalayan. This park is a nature gift to mankind and a beautiful paradise for birds, animals and vegetation.
Kaziranga National Park is a UNESCO World Heritage Site and offers you an amazing Elephant ride and Jeep safari. The park is home to the highest population of royal Bengal tigers and One-horned rhinoceros. The consistence of swamp and grasslands, making it the perfect habitat for the one-horned rhinoceros there is a large breeding population of Indian elephants and Asiatic water buffalos. Eastern Swamp Deer popularly known as Barasingha, is currently found only in Kaziranga.
In your safari discover the wildlife treasure and enjoy watching leopards, Indian elephants, gaur, horse deer, Indian Muntjac, wild boar, hog deer, jungle cats, leopard cats, fishing cats, Bengal foxes, golden jackals, golden langurs, small Indian civets, sloth bear, Indian gray mongoose, small Indian mongooses, large Indian civets, hispid hare, hog badger, Indian pangolins, apes, etc.
Besides animals, this park is also known for bird watching and Ganges dolphins at Kaziranga's river. You can also enjoy splendid scenic sights as Kaziranga National Park unlock the doors of natural empire. There are alluvial inundated grasslands, tropical wet evergreen forests and tropical semi-evergreen forests. Nature lovers can also find water lilies, water hyacinth and lotus in the rivers and water bodies of the park.
Safari Zones at Kaziranga National Park
There are four safari ranges at Kaziranga National Park, Central (Kazaringa), Western (Baguri), Eastern (Agoratuli), and Burhapahar. Each range has its own uniqueness. The Western range has the highest density of rhino's buffaloes. The Eastern range is famous for Birds.the Central range is most accessible and popular range.
Offered safari at Kaziranga National Park
Elephant Safari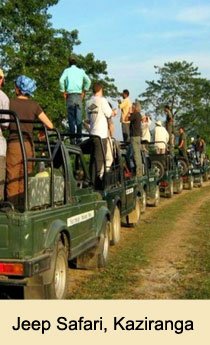 Elephant safari in Kaziranga Park is a very exciting and thrilling activity you can explore the hidden mystery and the most natural views of the dense jungle on elephants which are well trained and they have years of experience that are steered by the professional Mahout. On each side 2-3 people were seated depending on the weight it is such a treat to the travelers to move in the open grounds on these majestic animals.
Jeep safari
Jeep safari is another available option to see the national park. There are two shifts for jeep Safari one in the morning and other in the evening. Jeep Safari is the most speedy and relaxed way to cover large distances in a short span of time. In a single jeep, maximum 06 passengers are allowed to ride accompanied by a guide or escort.
Kaziranga National Park is an important destination of nature lovers, wildlife lovers, wildlife adventure enthusiasts and families also and it promises an adventure that you will never forget.