Rajaji National Park Safari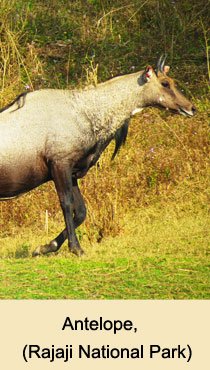 Rajaji National Park is well known for its purified form, pristine scenic beauty and rich bio-diversity which serve as its major attractions for both nature lovers as well as wildlife enthusiasts. It is located along the hills and foothills of Shivalik ranges in the Himalayan foothills and spread over an area of 820.42 SQ. K.M. It covers over a part of over three districts of Uttrakhand i.e. Pauri Garwal, Dehradun and Hardwar.
Representing the Shivalik eco-system this National park is a combination of three sanctuaries, namely Chilla, Motichur and Rajaji. Rajaji National Park has been named after Late Sri C. Rajgopalachari (also known as Rajaji), a well known prominent leader of the freedom struggle and first governor general of India.
Wildlife safari is the best way to explore this beautiful reserve. The safari at Rajaji National Park is a bagful of activities by which you can keep your adventure sprit alive. Tigers and leopards are the prime predators in this national park.
During your safari you can also enjoy watching elephants, nimble goats, hyena, jackal, Bengal fox, Sambar, barking deer, hog deer, nilgai, wild pigs, cat, civet, yellow-throated marten, sloth bears, rhesus macaque and the common langur are fairly common here. The Himalayan black bear also can see in the higher reaches of the park. Here you will find more than 400 species of birds, 60 different species of butterflies of different colours and around 40 species of water birds which visits the Ganges every winter. You can also found here a number of Peacocks the National bird of India.
There are three Safari Zones at Rajaji National Park, Motichur Tourism Zone, Chilla Tourism Zone and Ranipur tourism zone.
Safari at Rajaji National Park
Jeep Safari
Jeep safaris are offered twice a day in morning and evening from sunrise to sunset for 3 hrs. Open jeeps can accommodate up to 5 people at a time. Spotted deer or cheetal groups are commonly visible during Safari, Elephant is also commonly sighted. You will be accompanying a trained and knowledgeable guide, who will help visitors know about the national park and its habitants.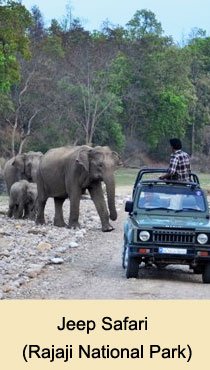 Elephant Safari
The trained elephants along with their trained mahauts are always an attraction for most of the visitors which are available from the Chilla gate; it depends upon the availability of the Elephant. Explore the jungle on the back of an elephant is a lifetime experience so all the tourists should never miss the elephant ride.
You can also enjoy Bird watching as there is over 400 species of birds and White water rafting on the holy river Ganga.
Apart from the jungle safari you can also enjoy Body Surfing and Cliff Jump, hill trekking, meditation, yoga, biking, stress management and lots more. The majestic Ganges flows through the National Park with its innumerable streams. You also can enjoy the precipitous pine-covered slopes, dense forests, sprawling grasslands and many never before seen greenery and vegetation and surrounding jungles and villages on foot.
Rajaji National Park offers you an opportunity to enjoy the captivating landscape and wildlife.