Kerala Beach Holidays
Kerala Beach Holidays
Situated at the south-west corner of the Indian sub-continent, Kerala beaches make a beautiful wide spread in the coastline of the Arabian Sea. The divine calmness of the 'God's own country' Kerala, makes these beaches one the best tourist destinations in India. This pristine state offers you a variety of blue and green contrast at some of the prettiest beaches of the sub-continent.
A Glance of Attractions to the Kerala beaches All-round scenery- The geography of the coastline keeps changing as you start moving from north to south. While you explore the headlands in the northern region the view changes to flat lands in the south.
Sea - side sojourn and shopping - What's a holiday without some shopping fun. Along with relaxing sun-bath at the beaches, Kerala offers you wonderful handicraft works and collector's items to shop from. You go back home with a perfect souvenir.
Art, Culture and South Indian cuisines - Kerala is enriched with diverse forms of performing arts. Be it the ancient traditional dance form Kathakali, or a new age dance form Kerala Natanam, evolved from Kathakali itself. Once you visit Kerala you won't afford to miss at least one of the cultural performances. While you are in the beaches, south Indian cuisines offer you a variety of seafood to satisfy your taste-buds.
To make your Kerala beach holidays an unforgettable and comfortable memory, our travel experts have come up with a well planed itinerary. Have a look-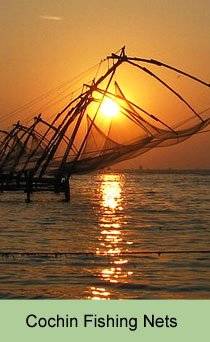 Day 1 : Arrival at Cochin
Our local team welcomes you at your arrival in Cochin, the gateway to Kerala and escorts you to the hotel. Cochin is also known as Kochi and is one of the major port cities on the west coast of India. With time Cochin has emerged as the commercial and industrial capital of Kerala. It is popularly known as the 'Queen of Arabian Sea'.
Today you relax at the hotel and enjoy the services. In the evening you can talk a small walk to explore the city. Overnight at Hotel.
Day 2 : Cochin
Post breakfast tourists may precede for half day city tour, which covers Jew Synagogue, Dutch Palace, St.Francis Church, Chinese fishing and some of the other must visit places.
• Amazing places to Visit - Jew Synagogue, Dutch Palace, St.Francis Church, Chinese fishing, Peninsula of Mattencherry and Fort Kochi, Vypin Island, Thrikakara Town, Chinese Fishing Nets, Jew Town, Aluva, St Francis Church, Princess Street ,Kerala Folklore Theatre and Museum, and Maradu.
• Delights of Trip - Some great historic places, museums, sea port, rich art, culture, and temples.
• Special charm of Cochin - Special bicycle trip, Spice Market, and Eco tourist villages.
Overnight stay in Cochin.
Day 03 : Cochin - Alleppey by surface (63 kms/40Miles)
After breakfast tourists will be driven to Alleppey also known as Alappuzha the beautiful backwater land of Kerela,. Popularly known as the Venice of the East, Alleppey is enriched with diverse wild life. By virtue of its proximity to the sea, the town has always enjoyed a unique place in the maritime history of Kerala.
• Amazing Places To Visit - Alleppey Beach, Mullakkal Bhagavathy Temple, Mannarasala Temple and Alappuzha CSI Christ Church
• Delights of Trip - Ayurvedic body treatment and Spa, Visit of Beaches, and Stay in boat house.
• Special charm Of Alleppey - Boat races, marine products, and coir industry.
Overnight stay in Alleppey.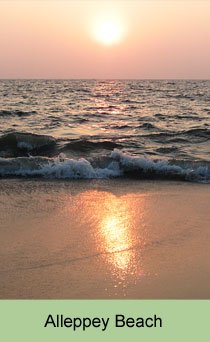 Day 04 : Alleppey - Kovalam by surface (176 kms)
Fourth day of the tour begins with a beautiful drive to the world famous international beach of Kovalam. True to its name Kovalam offers an endless sight of coconut trees. Kovalam consists of three adjacent hemispherical beaches, the southernmost, known as lighthouse beach is the most popular one.
• Amazing Places to Visit - Kovalam beach, Pozhikkara beach and lighthouse beach, Kaudiar Palace, Kovalam Museums, and Vizhinjam rock cut cave.
• Delights of Trip - Sunbathing, water sports, shopping, catamaran cruising, yoga, meditation and rejuvenative Ayurvedic body toning massages.
• Special charm Of Kovalam - Light house beach.
Overnight stay in Kovalam.
Day 05 : Kovalam - Trivandrum - Kovalam by surface (16 kms one way)
With sunrise tourists will be driven for a city tour of Trivandrum, the Capital city of Kerala. Trivandram is also known as Thiruvananthapuram. It is located at a distance of 16 kms from Kovalam at the extreme south corner of the mainland. Mesmerised by its rich flora and fauna Mahatma Gandhi called it the 'Evergreen City'.
• Amazing Places to Visit -
Padmanabaha Swamy temple, Horse Palace, Museum, and Art Gallery.
• Delights of Trip -
Water sports activities, cruising, shopping in market, Ayurveda massage therapy and yoga treatment.
• Special Charm -
Carnatic Music and Museum paintings of Raja Ravi Sharma.
Return to Kovalam. Overnight stay in Kovalam.
Day 06 : Kovalam - Trivandrum (16 kms/10Miles one way)
After having a great time at Kerala beaches your trip comes to an end on the sixth day of the tour. Tourists may transfer to Trivandrum Airport/Railway station to connect flight/train for onward destination.
Check-In & Check-Out time is 12 noon at all hotels.