In this hottest summer the India tourism Holiday gives you an awesome opportunity to visit the sole hill station in Rajasthan 'Mount Abu'. Situated at the southern tip of Aravalli range this beautiful hill station offers cool climate with rich flora covering the entire region.
Mount Abu is a treat in the royal land of Rajasthan. As it is the only hill station in the state, Mount Abu is quite famous among the travelers who visited the land of Desert and kings. It is known as the 'Oasis of the Desert'.
On your Mount Abu tour package you can explore beautiful lakes, rivers, waterfalls and verdant forests. Apart from this, the holy shrines also form a part of Mount Abu. You can also visit Nakki Lake, which is manmade or artificial lake popular for boating. It is the only artificial lake in India that is 1200 meters above the sea level.
According to the legend, the name Mount Abu was earlier 'Mount Arbud', which was a powerful snake. Another believes says that all the 330 million Hindu Gods and Goddesses visited this holy mountain and in its earlier time, it was the home to many pious saints. The city got the significance of Jain devotees after the visit of Lord Mahavira in this holy city.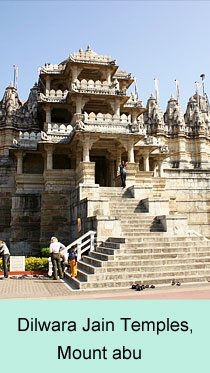 During this holiday trip get a glimpse of Mount Abu which covers a fusion of religious, adventurous and romantic Spots for tourists. Tourists can explore-
Dilwara Jain Temples
The Dilwara Jain Temples are the treat for the pilgrims of this holiday trip. These are the finest Jain temples all over the world. Famous for its surprising architecture and amazing stone work, these temples attracts a number of tourists every year from all over the globe. These five temples are Shri Mahaveer Swami temple, Shri AdiNath or Vimal Vasahi temple, Shri ParshavNath or Khartar Vasahi temple, Shri Rishabdaoji or Peethalhar temple and Shri NemiNathJi or Luna Vasahi temple.
Sunset points
The visitor of who are nature lover can't afford to see the amazing views of Sunset point. It is famous as it gives an astonishing picture of mountains when the glorious sun sets in the straight line of high mountains. The mountain peaks of golden color are the best part of this tour package and gives unforgettable memories to the visitors.
Nakki Lake
Nakki Lake is a lake between the high peaks of Mountains which is known for the bygone tales related to it. It is believed that Hindu Lords have punched this Lake by their Finger nails so it is believed to be a pious lake for Hindus.
The Boat riding at Nakki Lake makes your trip of holiday awesome. It cheers and refreshes your mind with its peaceful atmosphere. This lake is also remarkable for the variety of Intercontinental birds visiting lake yearly.
Wild life sanctuary
Wild life sanctuary is nestled in amazingly place Arravli mountains covering an area of 288 sq kilometers. It is well known for wild and rarely seen animals in India. Wild Life Sanctuary of Mt Abu is the biggest attraction for tourists. it houses around 300 species of birds, Leopards, Sambhar, Chinkhara and Langurs.
Tevor's crocodile Park
Tevor's crocodile Park is the paradise for wild life lovers. Tevor's crocodile park is famous for the tanks which are made to breed the crocodiles. Apart from crocodiles one is able to see different species birds and black deer at this wild sanctuary spot. You need to be extremely lucky to spot a black deer in Tevor's crocodile Park.
Gaumukh Temple
Gaumukh Temple is Counted in the most famous holiest attractions, Guamukh temple is a must visit place and dedicated to Saint Vashishth. There is a magnificent statue of Nandi, this beautiful statue is a major attraction of this temple.the whole temple is made up of marble.
Honeymoon Point
Lots of tourist attraction and alluring beauty of Mount Abu makes it a treating point. The popular rock in the appearance of man and woman is the main attraction of the place, which gave it a name of Honeymoon point.
So get ready to explore this holiday trip of a beautiful hill town of Rajasthan and spend some ultimate time with your family and friends.