Lord Buddha Tour
Duration : 08 Nights / 09 Days
Destinations : Delhi - Lucknow - Balrampur - Lumbini - Gorakhpur - Sarnath - Varanasi - Bodhgaya - Nalanda - Rajgir - Patna - Kolkata
India is the land of many colorful,different and ancient religions.North region of India is full from the natural beauty, giant Himalaya dazzle this region with its glory of bright snow. North India is not just famous for beautiful places like Jammu & Kashmir, Leh & Ladakh and many small towns ,it is also most renowned for peace and pilgrimage tour. In India buddhist religion is originated from the north. Leh & Ladakh is the core of Buddhist pilgrimage places. This land is full with divine buddhist monasteries and buddhist temples.

Zanskar, Padam, Lumbini, Gorakpur, Kushinagar, Varanasi, Rajgiri, Nalanda and Patna are the major spot of Buddhist pilgrimage places in India. Several divine and ancient monasteries are dazzling the divine land of India.
Day 01 : Arrive Delhi
First day of this wonderful tour start from the Delhi. Our representative receives you from the airport with the warm greeting. After some rest you can explore the beauty of busiest city Delhi.
Overnight stay in hotel.
Day 02 : Delhi - Lucknow - Balrampur
Early departure to Delhi. Lucknow is a very famous and charming city of the India.Lucknow is most renowned for several monuments, delicious Mughal cousins and culture.Chiken embroidery work is traditional and very famous art work of this royal city. After the short tour of "the city of Nababs"(a famous name of Lucknow), a wonderful drive to Balrampur. Enroute visit to Sravasti.
About Sravasti: It was the ancient capital of Kosala kingdom and a sacred place because Lord Buddha performed the greatest of his miracles to confound the Tirthika heretics.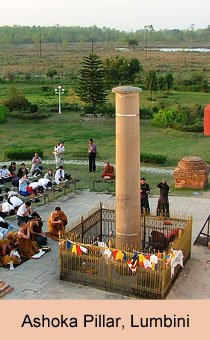 Day 3 : Balrampur - Lumbini - Gorakhpur
Early morning drive for Lumbini, Arrive Lumbini and go for complete visit of Lumbini.
About Lumbini : Lumbni is the birth place of Lord Buddha.It is one of the most renowed Buddhist pilgrimage. Ashoka, the great king and the big devotee of Budhist also erected one of the commemorative pillars there. Lumbini is now become a Buddhist pilgrimage centre, where the archaeological remains associated with the Lumbini and Ashoka Stupa are the major attractions for the visitors.
Afternoon drive for Gorakhpur. Check into the hotel. Evening time is free to explore the city Gorakhpur. Overnight stay in hotel.
Day 04 : Gorakhpur - Varanasi
After the early breakfast, morning drive for one of the most sacred place,Varanasi. This city is full with several ancient Hindu temples. Enroute visit of Sarnath brings you in the divine world of Lord Buddha.
About Sarnath : Sarnath is around 13 Kms to Varanasi in Uttar Pradesh. It is the place where Lord Buddha gave his first sermon about his five disciples named Kaundinya, Bashpa, Bhadrika, Mahanaman and Ashvajit . Sarnath was also the land of many ancient dynasty. This place has several ancient stories, stupas and monuments.
You can explore the beauty of Sarnath whole day. Overnight stay at Varanasi.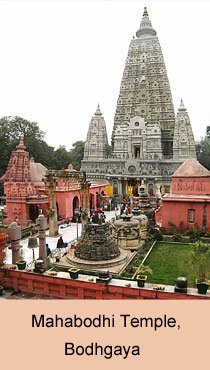 Day 05 : Varanasi - Bodhgaya
On the day 05, you will explore the early morning beauty of holy river Ganga and Varanasi by boat cruise. In afternoon, a drive for next pilgrimage place of your tour i.e. Bodhgaya.
About Bodhgaya : Bodhgaya is one of the most sacred Buddhist pilgrimage place in the world. The Bodhi Tree-a banyan tree, under this tree prince Gautama gained supreme knowledge to become Buddha, the Enlightened One. Mahabodhi temple and Bodhi tree are the great attraction of Bodhgaya.Mahabodhi temple is also listed in the UNESCO World Heritage sites.
Overnight stay in hotel.
Day 06 : Bodhgaya - Nalanda - Rajgir
Early morning proceed for the sight-seeing of Bodhgaya and Tibetian Monastery. After that you drive for Rajgir and enroute visit to Nalanda. Nalanda is one of the ancient Buddhist pilgrimage.
About Nalanda : Nalanda is famous for Stupa and Nalanda University .University of Nalanda attracted large number of Buddhist students from different parts of the world. The University of Nalanda was founded in the 5th century by the Gupta rulers. There were thousands of teachers and students. The main courses which were taught there were the Buddhist scriptures (both Mahayana and Hinayana), Vedas, Logic, Shabda Vidya (grammar), Chikitsa vidya (medicine) etc. Archaeological Museum and great Stupa are the top sight-seeing of Nalanda.
Overnight stay in Nalanda.
Day 07 : Rajgir - Patna
Now, on day 07 you are in another wonderful Buddhist place i.e. Rajgir.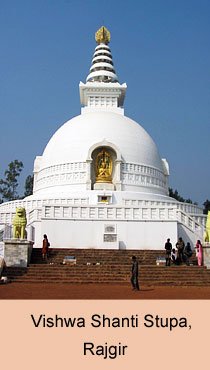 About Rajgir : Rajgir is around 15 km from Nalanda.It is full with Buddhist monasteries. It is very beautiful and scenic place, which is located in a valley. Lord Buddha spent many years in Rajgir and he also gave sermons here. Jivekarmvan monastery was one of the residences of Buddha.Rajgir was also the venue for the first Buddhist Counsil. Ajatshatru Fort and Shanti Stupa is the major attraction of Rajgir.
Afternoon drive for Patna. Check into hotel. Overnight stay in Patna.
Day 08 : Patna - Kolkata
Day 08, you are in Patna. A complete day in Patna gives you wonderful experience and unforgettable experience.
About Patna : Patna is the capital of Bihar. Patna is most renowned city and it is also an important Buddhist pilgrimage. Goal Ghar and Stupa of Buddha are the major attraction of Patna.
Afternoon transfer to airport to board flight for Calcutta. On arrival c heck into the hotel. Overnight stay in Kolkata.
Day 09 : Kolkata
Final day of your tour is completely for the amazing city of West Bengal-Kolkatta.
About Kolkata : Kolkata is the largest city of West Bengal. It is formerly known as the Calcutta and it is the second largest city of India.it is the cultural, commercial and economical hub of West Bengal.
Full day city tour of Kolkata is covers the all famous tourist places like museum, Victoria memorial Kali Mandir, Ganges & old city.