Leh Ladakh Monasteries Tour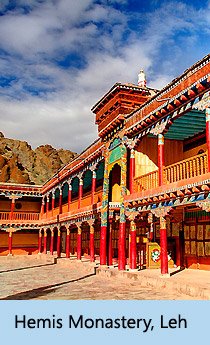 Day 1 : Arrival at Delhi or Leh or Srinagar
Leh airport has only one terminal and that operates only domestic flight. Delhi airport accepts flight from all the major cities of the world while Srinagar airport also accepts international flights from many cities of the world.
On your arrival at the Leh airport, our representatives would greet you and take you to your hotel. You will get an entire day to yourself for acclimatizing Leh as it is situated at a height of 3500 meters above the seal level. Enjoy evening stroll at the Leh bazaar and stay overnight at the hotel.
Day 2 : Leh
Your wonderful trip starts from day 2. We take you to the Thiksey monastery for the early Morning Prayer and then to the Hemis monastery that is one of the main monasteries of this region. On your way back to your hotel, you visit Shey Palace. You reach your hotel during the late afternoon and stay overnight.
If you are coming via Delhi airport, our representative would meet you at the airport and transfer you to the hotel. Serve you grand dinner and overnight stay at hotel. Early morning flight to Leh, met upon your arrival, transfer to your hotel and overnight stay.
Day 3 : Leh-Diskit / Leh
We take your through the Gangles village and to the Khardongla Pass which happens to be the highest motor able road in the world at a height of 5000 meters. You pass through a bridge laid on a glacier and to the Diskit monastery that is 515 years old. This place is beautiful and the monastery offers breathtaking view of the surroundings. Overnight stay at hotel or guest house.
If you are coming via Delhi, then you visit the tourist spots in Leh as in Phiyang Monastery, Leh Bazaar and King's Palace.
Day 4 : Diskit-Panamic/ Leh
Panamic is famous for its hot sulpher springs and you spend half of the day there. On way back, you visit Samstalling and the Sumur monastery. Hunder is a short drive from this place which you visit during the afternoon. Overnight stay at hotel or guest house.
On the other hand, via Delhi tourists visit Thiksey and Hemis monastery after a full day excursion and stay overnight at the hotel.
Day 5 : Diskit Leh/ Leh-Delhi
You come back to Leh via Khardongla Pass and stay overnight at the hotel.
Via Delhi tourists take their flight back to Delhi where they stay overnight in the hotel.
Day 6 : Leh/ Delhi
You visit the Phiyang and Spituk Monastery during the day and during the afternoon, you visit the King's Palace and Shanker and Tsempo Gompa.
Delhi tourists explore Old and New Delhi and visit the Red Fort, Raj Ghat, Jama Masjid, India Gate, National Museum, Laxmi Narayan Temple, Qutab Minar, Parliament House, Humayun's Tomb, Lotus Temple, Rashtrapati Bhavan and Shantivan. You stay overnight at the hotel and we transfer you to the airport where you board your flight.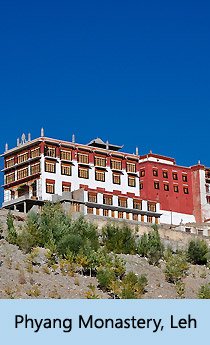 Day 7 : Leh-Chumathang
We drive to Chumathang early in the morning and stop at Upshi for passport check purposes. From there we take the road to the left to reach Karu. Chumathang is also famous for its hot springs and it is visited by people for medical bath. We visit the monastery and stay at tents for the night.
Day 8 : Chumathang-Korzak
We reach Mahe Bridge after a very short drive where there is check point. Rough mountainous road lead us to Sumdah village and from there (55km) we go to the Tsomoriri village. There is a lake that is famous for its wild birds and ducks and geese. We spent rest of the day exploring the Korzak village and spend the nights at tents.
Day 9 : Korzok-Tsokar-Tanglangla
From Mahe village, we drive left to Puga. This village offers amazing view of fountains and nagging white clouds. Then via the Polokongka Pass we drive to Tsokar and visit the Thukge Gompa. We arrive in Leh late that evening and stay overnight at the hotel.
Day 10 :
A memorable trip comes to an end and we transfer you to the airport where you board your flight to your destination.